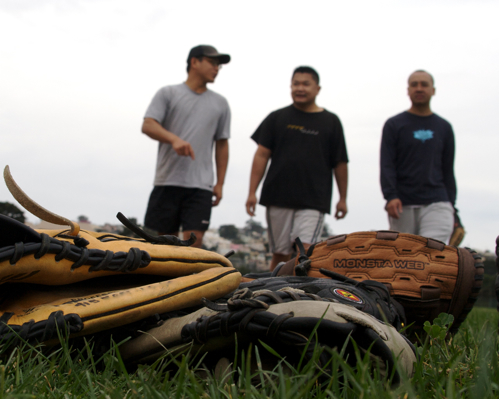 We pick teams before each game by piling the gloves

About Us - The San Francisco Pickup Softball Network is a group of recreational softball players who host games for players of all abilities and experience levels in the interest of having fun. We've played every week (weather permitting, and sometimes even when it didn't) for over 10 years. Our players range from first time softball players to veteran club players. No reservations necessary, just check the schedule below and show up!
News - October 2020
NEXT GAMES:
We'll be out there the next 4 Saturdays.
October 31st, November 7th, November 14th, and November 21st - 9:00 AM at Balboa Park
Always check the
messages for the latest news
on field location.
Get there on time if you want to play in the first game, otherwise no squawking! (check the recent mailing list messages below for status of the game, just to be sure.)
What to do if the game is already going - count the players on each side (or on the lineup cards) and see if there are already 10 per side. If there are less than 10 per side, ask someone which team you should be on. If there are 10 per side, see if anyone else is waiting. If you have enough people waiting, start another game (recruit people from the existing game if necessary, you can play with 7 per side)